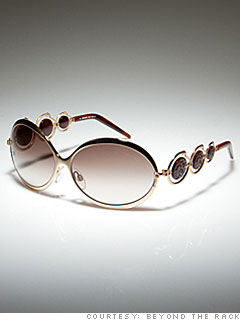 Who does it:
2 million members, including some bold-faced names like Lindsay Lohan, Jennifer Love-Hewitt, Neil Patrick Harris and Kim Kardashian. Enrollment is free; CNNMoney readers can sign up and score a $10 credit at
beyondtherack.com/member/invite/CNNMONEY
How it works: The site runs up to 10 sales a day, 7 days a week -- "it never ends," says spokeswoman Lori Krebs. Sales start 11 a.m. ET and typically last 48 hours.
Secret strategy: BTR fans can sneak a peak upcoming sales on the site's Facebook page. Since half a million members log on at 11 a.m. each day, Krebs recommends signing in 10 minutes ahead of time to ensure a speedy start out of the gate.
"The hardest part is having a very quick 'clicker,'" says professional stylist Holly Copeland. "You have to be quick with some of the popular items and designers. Setting a reminder alarm right before the sale starts is a must if you really want a particular piece."
What you can snag: Jimmy Choo, Dior, Balenciaga, Mui Mui, Uggs, Movado watches and Versace Home.
Ultimate score: These Roberto Cavalli sunglasses (pictured) are selling on the site right now for $159, down from a retail price of $530.
NEXT: HauteLook
Last updated November 03 2010: 2:46 PM ET