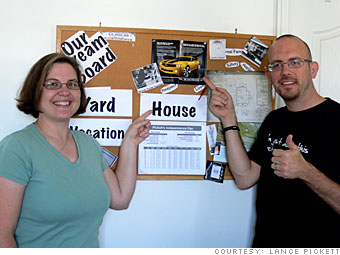 Lance Pickett, 32, and his wife put their "wants" on a Dream Board while they pay off their debt, and they track how close they are to paying off their mortgage.
Strategy: Live without the little things
Advice: Don't go too far -- like trying cloth diapers to save $60

My wife and I owed $18,000 in student loans, $6,000 in car loans, $2,000 in credit cards and $152,000 in my mortgage.

We were living paycheck to paycheck and I was tired of seeing my bank account zero out every month. So we wanted to get out of as much debt as possible as soon as possible. We started by saving an extra 1/12th of our total required expenses -- like mortgage, utilities and Internet -- each month, in order to have one month worth of bills saved up at the end of the year. Then we got excited and doubled that. In three years we had six months of living expenses and threw that into a high interest CD at 5%. That really got us going, seeing the money grow -- and we became obsessed with eliminating debt.

We just really took a look at what we need and only spending money on those things. I used to eat out a lot and that cost me $200 a month. Now we invite friends to "eat-in" at our house. We have a garden and purchase produce from co-op programs. Before we became debt-obsessed we would also get nice Christmas gifts for each other, but now we limit each other to $50.

Now, if there's something we want we put it on our "Dream Board," a cork board by our bedroom door that we see everyday. And it will stay there until we're debt free. It also has the loan schedule for our house, and each month we scratch off a month. Next to the schedule, we post our ultimate "want" that we agree to purchase -- with cash of course -- once our house is paid off. I have a 2010 Camaro waiting for me.

Cutting back so much has been hard, but we've learned a lot along the way. My wife learned some things are worth paying more for after trying to use cloth diapers -- which most people use as burp rags -- pinned inside training pants with plastic pants over them for our two kids, all so that she could reuse the diapers and not spend $60 a month on Pull-ups. As a result they both got horrible rashes, so we switched to a cheaper brand of regular diapers.

Altogether, we've paid off around $90,000 since 2005.
NEXT: Jowharah McNeil
Last updated October 21 2010: 12:29 PM ET