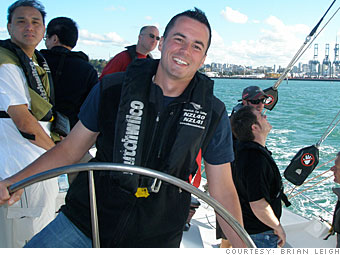 Leigh, 29, learned how to cook -- and ate broccoli every day of the week -- to save money and work his way out of debt.
Strategy: Track your expenses
Advice: Don't limit yourself too much, or you will give up.

I was able to pay off $22,000 of my $35,000 in credit card debt over the past 24 months just by looking really closely at where I was spending my money.

Being young, I made foolish mistakes with my credit cards, so when I started really wanting to knock out my debt, the biggest thing for me was tracking my expenses. I started by adding up how much I had been spending on meals and found out I was spending almost $55 a week just on lunch at work.

After that, I sat down, got a little notebook and started tracking every single thing I spent money on. I did that for a couple months, and then I came up with a payment plan. After overestimating how little I could live on the first month, I decided to take small steps.

I readjusted my allowance until it worked with my lifestyle. I started to bring my lunch to work four days a week, I shopped for groceries for one week and would then eat only leftovers during the weekend. I learned how to cook and found foods -- like broccoli -- that I can use in multiple meals so I don't have to waste anything.

To make sure my money goes where I need it to go, I set up two checking accounts and two savings accounts. I deposit $250 into the first checking account every two weeks --when I get my paycheck -- to use for everyday expenses. When it runs out, I don't go out.

I put another $250 into the first savings account as an emergency fund. Every five paychecks, I remove $1,000 from this account and apply it toward my credit card debt. I deposit $100 into the second savings account every paycheck. This account is used for long term goals, like a down payment on a house or a big vacation I want to take. Everything else gets deposited into my second checking account, and my bills and rent are automatically paid out of this account. Those automatic payments include an extra $1,000 toward my non-credit card debt -- like my student loans and car loans -- every month.
NEXT: Jaime Tardy
Last updated October 21 2010: 12:29 PM ET