In a region hard hit by the Great Recession, people are taking risks to build a brighter future. Here are four families' big chances.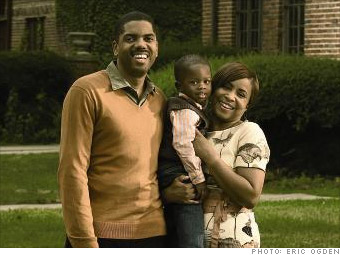 The real estate crash has been tough on Richard and Pamela Mack. Their condo overlooking the Detroit River -- where Pamela lived before they married -- was appraised at $80,000 in 2003. Now the apartment, which they're renting out, is worth closer to $25,000.
The house they've been living in -- a four-bedroom in the upscale University District they bought for $200,000 in 2003 -- is around the corner from similar-size houses listed for $100,000 or less.
And now, they've bought a third house: A 1925 Tudor-style in the historic Palmer Woods neighborhood that sold for over $500,000 in 2005 but cost the Macks just $114,000 in a foreclosure sale.
Read their whole story -- and how the experts say to make it work.
NEXT: Big decision: Starting a business
Last updated October 29 2010: 12:22 PM ET