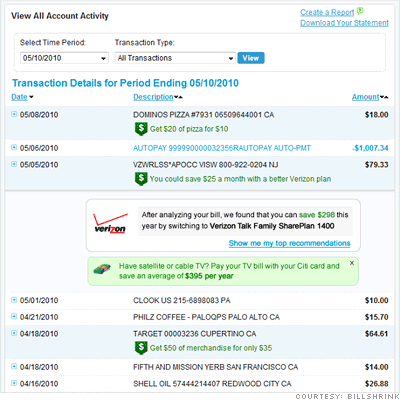 Company: BillShrink
Location: Redwood City, Calif.
Founded: July 2007
Do you ever look at your bank statement and wonder what keeps draining your balance each month?
Starting this month, BillShrink will show you just how much that AT&T cell phone plan or Time Warner cable service is hurting your bottom line, by tallying the amount you could be saving using alternative plans and allowing you to sign up immediately.
Addicted to your morning caffeine boost from Starbucks? BillShrink will even pinpoint a cheaper cup of joe in your neighborhood.
Link BillShrink to your bank account and its suggested savings will show up under related transactions that already appear on your bank statement each month.
There's an added bonus: If your bank statement shows that you bought a sweater from Target or any other retailer BillShrink works with, that company has the option to offer you coupons for future purchases.
Those offers will pop up on your bank statement -- and you can "like" or "dislike" them, so that future discounts are tailored to your tastes.
NEXT: Way cool budgeting tools
Last updated October 13 2010: 7:19 PM ET