The economy may rise and fall, but it turns out that holiday tips remain remarkably stable. So how much is the right amount?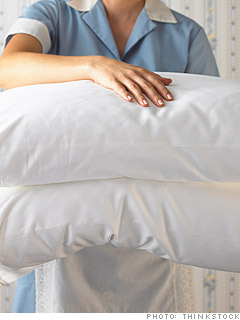 What readers say:
According to a MONEY magazine poll, readers say they plan to give their housecleaners $65 this year. That's $10 less, on average, than they did in pre-recession 2007. But how much should you tip your housecleaner?
The right way: Anna Post, a spokeswoman for The Emily Post Institute and the great-great granddaughter of Emily Post, says one unit of pay is a good guideline, whether that is equivalent to a week's pay or a day of housekeeping.
"Overall, holiday tipping is really a way of holiday thanking and if you just don't have as much money then you tip what you can," Post said.
NEXT: Gardener
Last updated December 06 2010: 10:49 AM ET