Anesthesiologists take home a median $290,000 salary annually. What other great careers from Money and PayScale.com's list of Best Jobs in America offer big paychecks?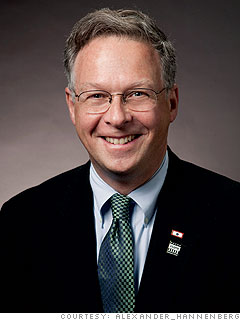 Alexander A. Hannenberg practices in Newton, Mass.
Median pay: $290,000
Top pay: $393,000
These doctors play an integral role in keeping patients alive -- and asleep -- during surgery -- no matter how long it may take. Their handsome paychecks reflect the responsibility and risk involved in their jobs.
"On a daily basis, I am with patients and families at the most stressful moments of their lives and have the opportunity to give them confidence and comfort," says Alexander A. Hannenberg, president of the American Society of Anesthesiologists.
"I wish the pace of the operating room weren't so quick and the pressure to move from patient to patient so great. I have only a brief time to get to know my patients, and sometimes we'd both benefit from a greater opportunity to interact."
NEXT: General Surgeon
Last updated October 11 2010: 8:13 AM ET
Source: All pay data from
PayScale.com
Note
: We looked at jobs from the top 100 with the highest top pay. Median salary is for an experienced worker (at least two to seven years in field). Top pay represents the 90th percentile.