Anesthesiologists take home a median $290,000 salary annually. What other great careers from Money and PayScale.com's list of Best Jobs in America offer big paychecks?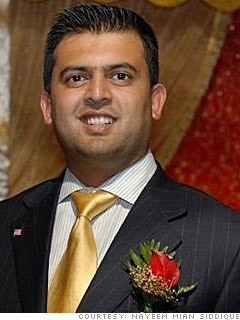 Nayeem Mian Siddique, 32, is the ICA sales supervisor for United Healthcare, based in White Plains, N.Y.
Median pay: $127,000
Top pay: $222,000
Senior sales executives need to be both customer-savvy and willing to put in a lot of time traveling to meet clients. They must also always be sure their staff is representing the product and company in the best way to make the sale.
"The job is mostly in the field, and I'm not chained to a desk," says Nayeem Mian Siddique, the ICA (Independent Career Agents) sales supervisor for United Healthcare. "That's a good thing, but also kind of a bad thing because I'm on the road a lot. I get stuck in traffic going to appointments from place to place. It's a rewarding career."

NEXT: Software Architect

Last updated October 11 2010: 8:13 AM ET
Source: All pay data from
PayScale.com
Note
: We looked at jobs from the top 100 with the highest top pay. Median salary is for an experienced worker (at least two to seven years in field). Top pay represents the 90th percentile.