Anesthesiologists take home a median $290,000 salary annually. What other great careers from Money and PayScale.com's list of Best Jobs in America offer big paychecks?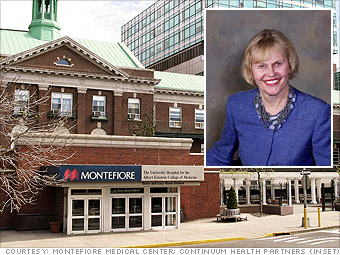 Ulla Laakso did her residency in psychiatry at Albert Einstein College of Medicine-Montefiore Medical Center
Median pay: $185,000
Top pay: $269,000
Unlike many mental health professionals, psychiatrists can prescribe medications to help treat patients with mental illnesses. Their specialized knowledge and medical degrees make them some of the highest paid in the mental health field.
"As a psycho-pharmacologist, I like that I can very quickly improve people's lives. That is definitely the biggest plus. You can make a fast, big difference," says Ulla Laakso, who practices in New York City.
"I think most psychiatrists would say that their job satisfaction is high. It is certainly a growing field and there seems to be a shortage of psychiatrists. Not in urban areas, but in more rural areas. Plus, it is not influenced by economic times and one can work until old age."

NEXT: Primary Care Physician

Last updated October 11 2010: 8:13 AM ET
Source: All pay data from
PayScale.com
Note
: We looked at jobs from the top 100 with the highest top pay. Median salary is for an experienced worker (at least two to seven years in field). Top pay represents the 90th percentile.