Demand for biomedical engineers is projected to grow a whopping 72% between 2008 and 2018. What other careers on Money and PayScale.com's list of America's best jobs will see big opportunities, and what do hiring managers look for?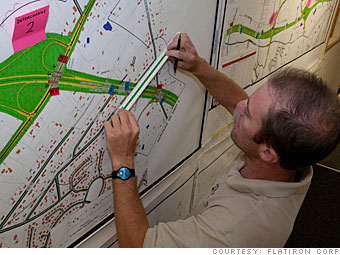 Travis Davis is field engineer and estimator with Flatiron Corp.
10-year growth: 25%
Median pay: $68,000
It may not be "sexy," but being an estimator is a vital component of a construction company, says Ty Freeland, corporate recruiting manager for Flatiron Corp., a heavy-construction firm.
Estimators generally project the time, labor and cost of each project and coordinate with designers, builders and subcontractors. Their numbers can decide if a company gets a job -- or underbids and goes broke. "It's all in the details," Freeland says.
The right person for the job should have a degree in civil engineering, at least 10 years of experience in the heavy-highway industry and some hands-on construction experience.
Previous experience in the military is also plus, Freeland says. "Solid leadership and integrity goes a long way." As does out-of-the-box thinking, since there are great opportunities to make a positive impact on the environment, like building a bridge in a way that does not disturb the surrounding wetlands.

More galleries

Last updated October 11 2010: 7:56 AM ET
Note: We looked at jobs from the top 100 with the highest 10-year growth rate. When there were multiple job titles from the same category, we selected the job with the highest current total employment.