Demand for biomedical engineers is projected to grow a whopping 72% between 2008 and 2018. What other careers on Money and PayScale.com's list of America's best jobs will see big opportunities, and what do hiring managers look for?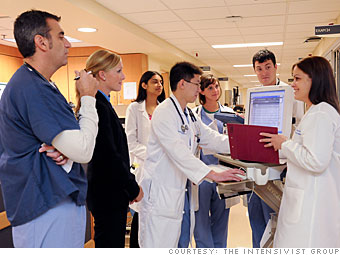 10-year growth: 39%
Median pay: $92,000
Because of the need to cut health-care expenses, physician assistants are in hot demand. That's because while they don't demand the same salaries -- or need the same education levels -- as physicians and surgeons, they can still treat patients and even make diagnoses. (No, they're not the ones in doctors' offices checking your temperature; that's a medical assistant.)
The Intensivist Group, which provides outsourced critical care services to community hospitals, is currently seeking a PA for Mercy Suburban Hospital's intensive care unit in Norristown, Pa.
"We're looking for people with good interpersonal skills because they'll be taking care of sick people," said Jay Cowen, president of the Lake Zurich, Ill.-based company -- and flexible schedules are a must. "You need to be aware of the requirements of the job. Our doctors work 20 hours a day, 7 days a week. We've parted ways with candidates because of their inflexibility to work within our schedule."

NEXT: Software Architect

Last updated October 11 2010: 7:56 AM ET
Note: We looked at jobs from the top 100 with the highest 10-year growth rate. When there were multiple job titles from the same category, we selected the job with the highest current total employment.