Demand for biomedical engineers is projected to grow a whopping 72% between 2008 and 2018. What other careers on Money and PayScale.com's list of America's best jobs will see big opportunities, and what do hiring managers look for?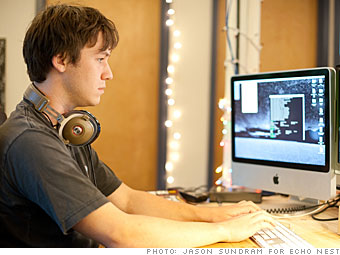 Half of the employees at Echo Nest are also musicians.
10-year growth: 34%
Median pay: $119,000
At Echo Nest, software architects not only help analyze and store music data, but they also have their finger on the changing nature of how music is shared online.
That means the Somerville, Mass., company is constantly seeking people with smart new insights -- which can make finding job candidates difficult.
"You can't go off and look for the 'VP of doing that before' because it doesn't exist," says CEO Jim Lucchese, who started the music intelligence company while he was a student at the MIT Media Lab.
In addition to engineering expertise, Lucchese looks for job candidates who are passionate about and synched with how people consume music online. Moonlighting in a band doesn't hurt either.
"More than 50% of our employees are also musicians," says Lucchese, who plays the drums. "One of our [interview] questions is 'What is the band you hate the most?' There is no right answer, but there are ample opportunities to insult people's music taste."

NEXT: Environmental Engineer

Last updated October 11 2010: 7:56 AM ET
Note: We looked at jobs from the top 100 with the highest 10-year growth rate. When there were multiple job titles from the same category, we selected the job with the highest current total employment.