President Obama's foreclosure-prevention program was touted as helping nearly 4 million people. Four families talk about what happens when that help doesn't come.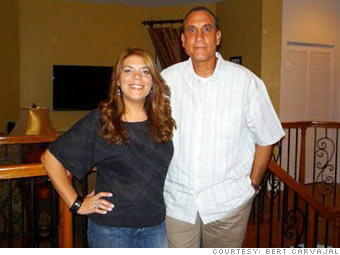 Carvajal, 50, and his wife, Mery, at their home in Homestead, Fla.
Why seeking help: Loss of income
Why denied: Temporary hardship
After six months in a trial mortgage modification, Bert Carvajal got the bad news in early December.
Not only was he rejected for permanent assistance under President Obama's foreclosure rescue program, he was also ineligible for any modification offered by his servicer, JPMorgan Chase.
Carvajal realized he needed help after seeing the overtime from his job as a construction project manager in the Miami-Dade school district dry up.
He can't afford to pay $2,700 each month on the home he shares with his wife, two young children, mother-in-law and three dogs.
Not only is he late on his mortgage payments, he is also behind in his escrow account for property taxes. He says he can't afford to make up the $15,000 he owes for the escrow account, which would bring up his monthly payment to $2,960.
Not willing to give up, he appealed to a special resolution group within Chase and called a housing counseling agency.
"I have to try to do something to save my home," he said. "I've got nowhere to go."
The resolution group offered him several options -- including selling the home or setting up a forbearance plan that would increase his monthly payments -- that were unacceptable or unaffordable.
After he was denied, he was told a housing counselor was able to place him in another trial modification. He even made his first payment. But it was soon revoked.
So Carvajal is starting to explore the rental market.
"We've started the process of detaching ourselves emotionally from the home," he said. "It's hard to do, but we have to because it looks like it's heading that way."
A Chase spokeswoman said the servicer reviewed the Carvajal's application again in January, but he still did not qualify for a modification. The servicer said it offered an alternative repayment plan based on his income, but he declined it.
NEXT: Jag Bhangu: 'You feel humiliated'
Last updated June 14 2010: 11:15 AM ET