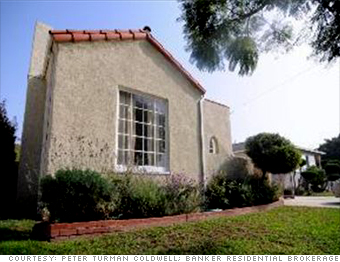 Close to Venice, this 2-bedroom house is a relative bargain for pricey L.A. at just $529,000.
Median home price:
$320,000
Median income:
$62,100
Affordability score:
36.8%
As the City of Angels filled in and up, with the population exploding to nearly 4 million in town and 13 million in the metro area, the city has mostly run out of land to build on. That has led to much higher development costs and home prices.
Still, L.A. values have fallen far from the bubble years, off nearly 40% since mid-2006. Affordability is improved as well, with 36.8% of homes sold falling in a range that median income earners could comfortably pay for.
With prices much lower and unemployment at 11.3%, many area homeowners are having a tough time staying out of foreclosure; there were filings on nearly 176,000 homes last year, the highest total for any metro area.
All those properties coming back on the market has depressed prices that would otherwise be far less affordable than they are now.
NEXT