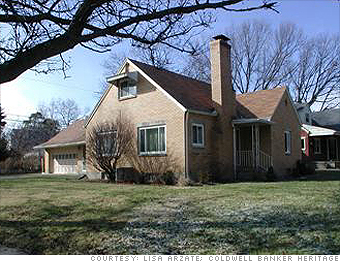 This well-kept, - bed, 2-bath in Dayton is listed for just $119,900.
Median home price:
$106,400
Median income:
$62,100
Affordability score:
93.2%
The hometown of Wilbur and Orville Wright, Dayton still hosts a significant aerospace industry centered on the Wright-Paterson Air Force base.
But the decline of heavy industry -- including last year's loss of the National Cash Register Co. to Duluth, Ga. -- has pushed the city toward the service economy for job growth.
The core city's population has dropped from a peak of more than 260,000 in 1960 to about 150,000 today. The metro area population has also dropped slightly over the past 10 years, according to Census Bureau estimates.
That has lessened demand for homes and helped keep prices low; the median has hovered around $100,000, more or less, the entire decade. At the same time, median income has grown from about $55,000 to more than $62,000. That increase, coupled with very low mortgage rates in 2009, made home buying extremely affordable.
NEXT: Fourth place: Youngstown, Ohio