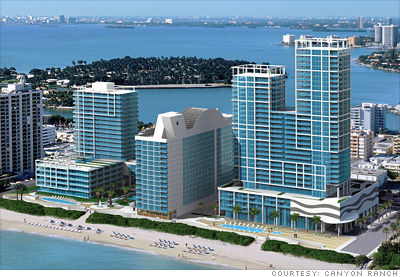 Sale price: $308.5 million
Size: 808,508 square feet
Location: Miami, Fla.
In the world of commercial real estate, history does sometimes have a habit of repeating itself. For years, the Carillon Hotel was a fixture of the Miami Beach scene, only to be shuttered in the late 1980s as a result of a tough economic climate.
After a massive overhaul, the property reopened in 2008 as a hotel-condominium combination under the banner of Canyon Ranch, a well-respected name within the wellness community. That venture however would stumble yet again as a result of the recent economic downturn. Last fall, its developers handed over the remaining 300-plus unsold condos to its creditors.
Despite that hiccup, the Canyon Ranch development appears to be moving full steam ahead. More than 60 units have been sold since May and another 20 contracts are waiting to be completed, according to its current owners.
NEXT: Pearson Building