Here are the 5 metro areas where the average American family can easily afford to purchase a median-priced home - and the 5 where they can't.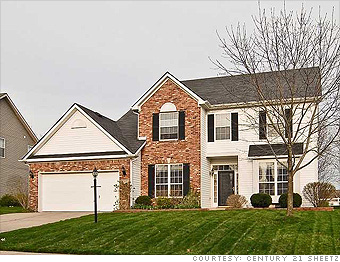 A four-bed, two-and-a-half bath in an Indianapolis suburb goes for $189,900.
Median home price:
$96,000
Median income:
$68,700
Affordability score:
94.9%
America's most affordable housing market is the 33rd largest metro area in the United States, with 1.7 million people.
The median family income is fairly high -- $68,700 -- and median home prices are a very reasonable $96,000, according to the National Association of Homebuilders and Wells Fargo Housing Opportunity Index.
Helping keep home prices depressed is a fairly virulent foreclosure plague: There were more than 18,400 properties with foreclosure filings during 2009.
The turmoil in the auto industry, which Indianapolis had been closely associated with, has hurt the city. But increased diversification, which has made pharmaceutical companies, banks government agencies and insurers all important employers, has helped keep job losses in check. The unemployment rate was 9.5% in March, according to the Bureau of Labor Statistics, nearly matching the national rate of 9.7% that month.
NEXT: Most affordable (tie): Youngstown, Ohio
Last updated May 24 2010: 1:00 PM ET
Source: National Association of Home Builders (NAHB) and Wells Fargo