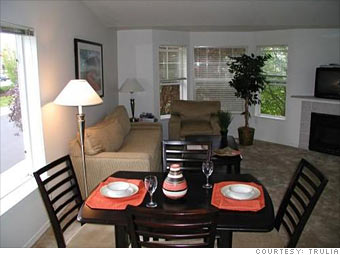 Average list price:
$308,000
Average annual rent:
$13,700
Price to rent ratio:
22.4
Portland is another "smart growth" city where developmental costs have been driven up by a tight regulatory environment. It seems to have enhanced the lifestyle and Portland is attracting many creative-class residents who crave a vibrant small city with a strong urban feel but easy access to the countryside.
Single-family home prices have held up rather well in the bust, falling less than 20% from the peak to $225,000 according to the National Association of Home Builders and Wells Fargo. Downtown areas, where condos predominate, have done even better with the median price of a two-bedroom going for more than $300,000.
Rents are nowhere near as strong so Portland's price-rent ratio comes in at more than 22 putting it firmly on the rent-recommendation side. The difficulty in building downtown, however, boosts the argument that once the national economy takes off again, Portland home prices will as well. Job losses have build in the metro area with 10.5% of workers unemployed during April.
NEXT: San Francisco: Rent
Last updated June 14 2010: 2:22 PM ET