We can't help the NBA superstar decide which team he should play for. But we do know a thing or two about real estate. Some house hunting tips for King James.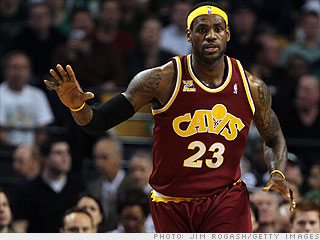 How to choose? Manhattan. New Jersey. Brooklyn. Chicago. L.A. Miami. Cleveland.
Cleveland Cavalier basketball superstar LeBron James will announce his big decision Thursday night. Which team will pay him hundreds of millions of dollars over the next decade?
Teams in five locations are in contention: New York, New Jersey, Chicago, Los Angeles and Miami. All nice places for a 25-year-old man to grow roots. Or, of course, he could stay in scrappy and charming Cleveland. The New Jersey team is slated to move to Brooklyn in the next few years. LeBron in Brooklyn. That would be cool.
The teams have wooed the free agent with an intensity rarely seen outside pro sports or Shakespearian sonnets. So have the cities.
New York Mayor Michael Bloomberg urged James to "write the next chapter in NYC basketball history."
But where in the Big Apple, or any of the other cities in the running, would James be happy?
NEXT: Manhattan: Upper West Side, SoHo or Tribeca
Last updated July 08 2010: 11:31 AM ET