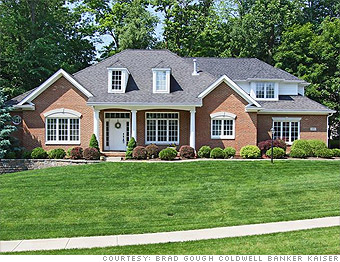 A big estate in an Indianapolis suburb goes for $445,000.
Median home price:
$113,000
Median income:
$68,700
Affordability score:
94.3%
The state capital and largest city in Indiana, with a metro area population 1.7 million, had been the most affordable big city in the nation for nearly five straight years.
The arithmetic is simple: quite high median family income -- $68,700 annually -- and low home prices -- a very reasonable $113,000 median -- equal high affordability.
The rise in home prices from $106,000 earlier in the year, though, was enough to enable Syracuse to pass Indianapolis on the most affordable list.

Like many well-established industrial cities in the Midwest and Northeast, economic and population growth has slowed in Indianapolis. With these forces depressing demand, there's little upward pressure on prices. A big foreclosure problem has contributed to a weak housing market. The metro area recorded nearly 11,700 foreclosure filings during the first half of 2010, the 51st worst rate among 206 cities surveyed by RealtyTrac. That puts the town on a faster foreclosure track than 2009, when there were18,400 properties with foreclosure filings.

NEXT: Third place: Detroit

Last updated August 23 2010: 11:03 AM ET