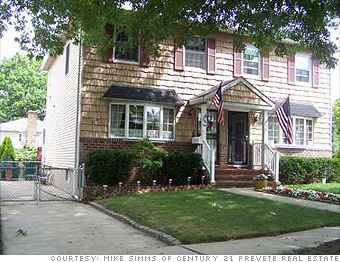 Whitestone, in Queens, has many homes selling around the same $559,000 price point as this three bedroom.
Median home price:
$426,000
Median income:
$65,600
Affordability score:
19.9%
Home prices are high in many New York City metro area communities, but earnings are less so; the median income is under $66,000. That combo makes this the country's least affordable major metro area.
Affordability has improved over the past few years as the median home price has fallen from about $500,000 at the market peak. That plus rock-bottom mortgage rates made it possible for median income families to afford nearly 20% of homes sold during the quarter.
The local labor market has survived the recession better than some other metro areas; 8.8% of workers were unemployed during June, according to the Bureau of Labor Statistics. That's below the national average of 9.6%.
One of the most important industries in the city -- finance -- has stabilized and many investment banks are hiring. That should strengthen housing markets but hurt affordability.

The entire New York metro area is a physically constrained market for developers. As a coastal city, it cannot expand out to sea and its already very high population density make it very expensive to acquire large tracts of developable land. Builders have to charge a lot for new houses and that helps keep existing home prices high, as well.

NEXT: Runner-up: San Francisco

Last updated August 23 2010: 11:03 AM ET