These are the five most affordable major metro areas in the nation for homebuyers and five markets where home prices are least affordable.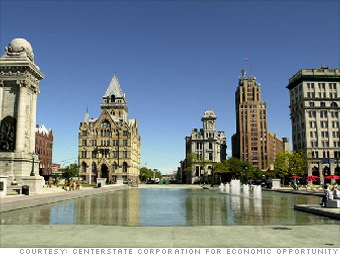 The most affordable city in the U.S.? Syracuse, N.Y., (above) which ousted Indianapolis for the title. That city had been "most affordable city to buy a house" for five years.
With mortgage interest rates scraping the bottom and home prices rising very slowly, housing is near record high affordability, according to the latest survey from the National Association of Home Builders and Wells Fargo.
Their Housing Affordability Index inched up in the three months ended June 30, with 72.3 % of all homes sold nationwide being considered affordable for families earning the median income of $64,400.
The NAHB judges a home to be affordable if a family making the metro area's median income could devote no more than 28% of their take-home pay toward housing costs.
Before housing markets nose-dived after the mortgage crisis hit, the index rarely hit 67% in its nearly 20-year history and never exceeded 70% until 2009.

That means, for homebuyers, these are the good old days, the best times in a generation to purchase a home.

Here's a look at the five most affordable major markets and five others where homebuying is more of a challenge.
NEXT: First place: Syracuse, N.Y.
Last updated August 23 2010: 11:03 AM ET