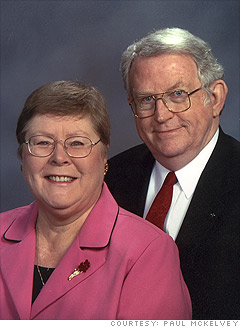 Paul and Joan McKelvey switched from coastal Louisiana for the security of central Texas.
Name: Paul and Joan McKelvey
Age: 67
Why they love it: Weather, people
My wife, Joan, and I live right on the edge of the Texas Hill Country. We moved here from Slidell, La., where we'd been for 17 years. We went through a lot of flooding and really did not care for being at risk for a major event like that. Here, the weather rarely has extreme events, and seismic activity lies outside modern memory.

The people are friendly and caring, and it's a beautiful area with plenty of artistic and entertainment opportunities. We're close to Austin, the live music capital of the world. We attend Willie Nelson's annual barbecue, which takes place just 30 minutes away.

I have a photography hobby, so I like that I am 20 minutes from Lake Travis, where cactus grow right next to the water. There's a back road through a beautiful canyon where eagles roost. This part of Texas is wildflower country. We've got bluebonnets everywhere in the spring.

We do a lot with our church, even more since I retired last year. We work on the newsletter, pick up disabled members to take to services and Bible study. Our social circle revolves around the church.

We would like to travel more -- like take off for Penang Island in Malaysia -- but we took a financial hit when the market crashed. I've been trying to get a business started. I'm marketing my photography, putting together church directories.

I don't think of retirement in the traditional sense of going out and playing golf. I think I'll be busy until the last, and this is a place where I can do that.

NEXT: La Veta, Colo.

Last updated September 13 2010: 8:42 AM ET