Your post-work years are a time to improve your golf game, take up a new hobby, or just enjoy a well-deserved break. In these great college towns, you can expand your intellectual horizons too.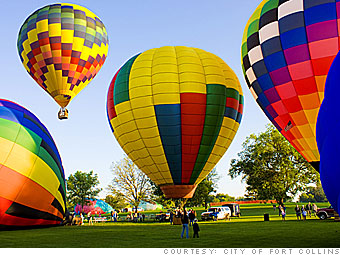 Population: 141,104
% over 50: 24%
Median home price: $217,000
State income tax: 4.63%*
In the foothills of the Colorado Rockies, Fort Collins is a Mecca for retirees looking to flex their muscles and their minds. Five ski resorts lie within a two-hour drive from Fort Collins; nearby Horsetooth Reservoir and Horsetooth Falls boast dozens of hikes of varying difficulty; and the town's three municipal golf courses are buzzing thanks to 300 days of sun. After a long day on the slopes, trails, and fairways, residents can kick back in Fort Collins' historic downtown, where 19th century buildings house 21st century shops and restaurants.
There are also plenty of ways to stay mentally fit. The Front Range Forum, a continuing education program from the City of Fort Collins, offers classes on topics such as philosophy, film, history and the arts. Colorado State University complements these with a full schedule of courses from the continuing-education department.

See complete data and interactive map for Fort Collins

NEXT: Lincoln, NE

Last updated October 06 2010: 4:55 PM ET