Your post-work years are a time to improve your golf game, take up a new hobby, or just enjoy a well-deserved break. In these great college towns, you can expand your intellectual horizons too.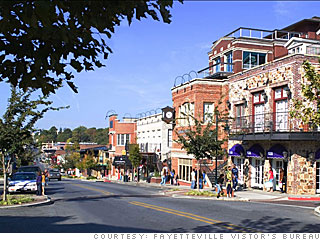 Population: 76,577
% over 50: 23%
Median home price: $153,000*
State income tax: 7%**
Fayetteville, in northwestern Arkansas, shows off the state's natural beauty. Deep-cut rivers flow through the verdant Ozarks, creating an ideal setting for hiking, fishing, photography and fall colors.
Fayetteville is a small and manageable city with a population of close to 73,000. Public transportation on the Fayetteville city metro, the Ozark regional buses and the University of Arkansas' free transit system connect a wide range of destinations, including the LEED-certified Blair public library. The university offers a full spate of lifelong-learning courses for people 50 and older, including a traveling Road Scholar program, where curiosity, education and wanderlust coincide.
The arts scene in Fayetteville is centered on the Walton Arts Center, which hosts top musical acts, and the avant-garde Fayetteville Underground, where co-op artists are painting, potting and photographing the city in a new light.

See complete data and interactive map for Fayetteville

NEXT: Ashland, OR

Last updated October 06 2010: 4:55 PM ET
* As of 2009
** top bracket