Your post-work years are a time to improve your golf game, take up a new hobby, or just enjoy a well-deserved break. In these great college towns, you can expand your intellectual horizons too.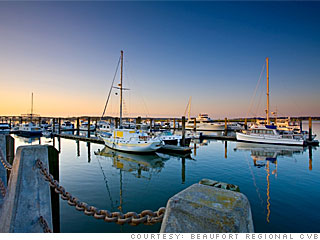 Population: 12,120
% over 50: N.A.%
Median home price: $188,600
State income tax: 7%*
When Hollywood movie scouts need the quintessential southern setting, they frequently call on Beaufort. Tucked among South Carolina's Sea Islands, this 300-year-old town with antebellum mansions and moss-covered oaks has been the backdrop for such blockbusters as Forrest Gump, Prince of Tides and The Big Chill. But fame hasn't spoiled it. The town is still far enough off the beaten path that you have to really look for it. In fact, many people find Beaufort by boat because most of the town boarders an estuary leading to the Port Royal Sound.
Of course, newcomers will quickly realize that there's more to the town than just a pretty face. At the University of South Carolina, Beaufort, older learners are privy to dozens of one-day and multi-session classes in history, literature, religion, music and more.

NEXT: Brunswick, ME

Last updated October 06 2010: 4:55 PM ET