Your post-work years are a time to improve your golf game, take up a new hobby, or just enjoy a well-deserved break. In these great college towns, you can expand your intellectual horizons too.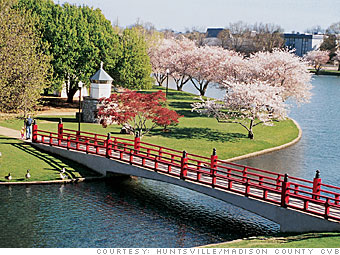 Population: 176,645
% over 50: 35%
Median home price: $137,625
State income tax: 5%*
Space buffs know Huntsville as "The Rocket City" because the Marshall Space Flight Center was the original NASA and it still plays a major role in civilian and government spacecraft and rocketry. Architectural aficionados know it for its 19th century architecture; the National Trust for Historic Preservation named Huntsville one of America's Dozen Distinctive Destinations for 2010. And nature lovers know this Northern Alabama outpost for its parks, botanical gardens and nature preserves.
While this picturesque city seems to have something for everyone, so too does the University of Alabama. Now in its 17th year, the school's lifelong-learning program offers some 50 courses each term in topics as diverse as the volunteers who teach them and the 400 members who enroll in them. Winter gardening, German grammar and Zydeco dancing, anyone?

See complete data and interactive map for Huntsville

NEXT: Austin, TX

Last updated October 06 2010: 4:55 PM ET