Vulcan Global Manufacturing Solutions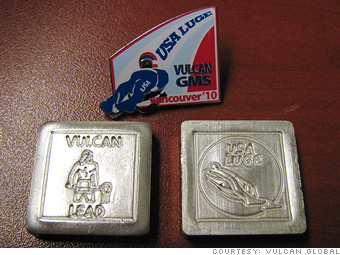 Official Lead Weight, U.S. Luge Team
Less is more, right? Not for athletes in luge events, where more weight on the sled translates into more speed on the track. Women weighing less than 165 pounds and men lighter than 198 pounds are actually at a competitive disadvantage.
To level the playing field, lighter athletes can artificially bulk up and still play by the rules. Vulcan Global Manufacturing Solutions, a Milwaukee metal-parts manufacturer that focuses on the medical and aerospace industries, seized on this opportunity more than 20 years ago. It's been sponsoring the U.S. Luge team ever since as its exclusive official supplier of lead weights.
The company's small metal die casts, which measure 1-inch square, can be sewn into the athletes' suits, or even fastened to their sleds with Duck Tape (another U.S. Luge sponsor) for a last-minute adjustment.
Vulcan donates about 3,000 weights to the team each year, without expecting much in return. The sponsorship is fairly low key -- consumer marketing isn't really a priority for a company that primarily makes internal parts for baggage scanners, hospital equipment and other radioactive machinery, says CFO Dan Henkhaus.
It's about "the fun of it," he says. Once a year, usually in May, the company shuts down its three factories in Milwaukee and invites all 100 employees to a luncheon with three of the team's top athletes. Vulcan also hosts an Olympic athlete meet-and-greet for students at a local school.

NEXT: Dermatone