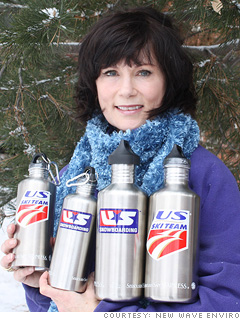 New Wave Enviro President Sheri Archer, with her company's water bottles.
Official Stainless Steel Water Bottle, U.S. Ski Team and U.S. Snowboarding
Athletes need to stay hydrated, and stainless steel water bottles are all the rage right now. Enter New Wave Enviro Products.
This Englewood, Colo., manufacturer got into the stainless-steel game five years ago. Now it's amping up its street cred by becoming the "official stainless steel water bottle" of the U.S. Ski Team and U.S. Snowboarding teams. New Wave bottles featuring both teams' logos will hit health food stores like Whole Foods and Sprouts this month. The company is also donating about 250 bottles to the teams.
While the "official supplier" deal doesn't include New Wave Enviro signage or marketing opportunities at any of the Olympic events, marketing director Dan Dettwiler hopes the partnership will boost exposure for both the teams and the product via grocery store shelves.

NEXT