New carpet for a day care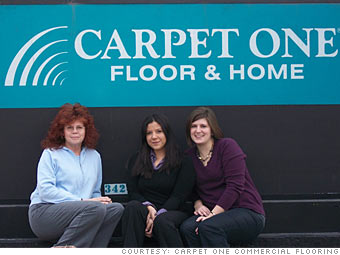 Three of Carpet One's 25 employees: Design Consultant Nanci Evans, Project Coordinator Lisa Torres and Sales Manager Serenity Moffett.
Carpet One Commercial Flooring
Cheyenne, Wyo.
Job count: Helped preserve 10 jobs
Carpet One Commercial Flooring in Cheyenne won a $75,000 stimulus contract to update the flooring in a day care/child development center at nearby F.E. Warren Air Force Base. The three-month month project involved tearing up old flooring and laying down fresh carpeting.
The contract employed about 10 workers from start to finish -- and it came just in the nick of time.
"It did not, in fact, help us hire anybody, but it kept anybody from losing their job, for sure," said Doug Finch, Carpet One's president. "It was a challenging year. It helped us stay afloat."
Finch has been the owner of Carpet One since 1997. All 25 full-time employees have health insurance and retirement benefits. In addition to preventing layoffs, the stimulus project funding helped ward off benefit cuts.
To weather the housing downturn, Finch shifted his company's focus from new home installations to residential remodels and commercial contracts. Government jobs bring higher administrative overhead, but Finch is resigned to the change.
"When you are dealing with the federal government, you will have more paperwork," he says.

NEXT: Sheet metal for science