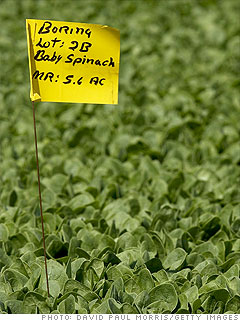 The top salad supplier to the U.S. military filed for bankruptcy in October 2006, just weeks after five food processors recalled their spinach products for possible E. coli contamination.
The bacteria outbreak, which resulted in more than 200 illnesses and three deaths, whacked AP Military Group's revenue in half, since the company's salad contract with the military generated about 75% of its sales.
AP Military Group has since salvaged its business and continues to provide perishable produce and other foods to domestic and international military bases.
But the jackpot deals are long gone. Records show that the government agency that provides groceries to military personnel spent more than $61 million with AP Military Group the year of the spinach product recall, but only $38 million the following year. Through the first nine months of 2009, that sum fell to $91,000.

NEXT: Leiner Health Products