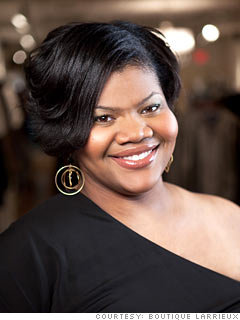 Lydia Hamilton, founder of Boutique Larrieux
Milwaukee
Funding: Peer lending site Prosper.com
Amount raised: $25,000
Launched: July 2009
Lydia Hamilton was confident she'd get a loan to open her plus-size contemporary women's clothing boutique: her credit was good, she and her husband had solid incomes, and she was armed with a 50-page business plan that impressed all the banks she approached. But the banks were only willing to offer credit cards or loans secured by hefty amounts of cash.
So she turned to Prosper.com, a peer-to-peer lending Web site that allows individual investors to extend loans to borrowers who've posted their story and credit scores. Lenders funded about 40% of Hamilton's $25,000 loan the day she posted the request; less than two weeks later, they'd fulfilled the entire amount.
"I found it very interesting that three banks said no to me, but 600 perfect strangers said yes," Hamilton says.
Individual loan amounts varied from $25 to $500, and were extended with at an 11% interest rate. Hamilton has three years to pay everything back.
Hamilton opened her storefront and Web site on March 16. "I will never use a traditional bank loan again if I don't have to," she says.

NEXT: Everlater

•

Lending site helps launch boutique