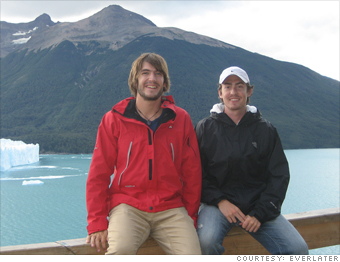 Everlater cofounders Nate Abbott and Natty Zola.
Boulder, Colo.
Funding: TechStars incubator
Amount raised: $12,000
Launched: August 2008
Everlater was hatched when its cofounders went on a round-the-world trip and couldn't find a good Web application with which to share their experiences. So they moved back home to Colorado and lived off savings and loans from family and friends as they built a Web site that functions as an interactive travel journal.
In May 2009, they joined TechStars, an incubator that operates in Boston and Boulder. (This fall, it expands to Seattle.) The program gives startups funding, mentoring and networking opportunities, including a demo day at the end of the three-month program during which entrepreneurs can pitch angel investors and venture capitalists.
The funding was useful, co-CEO Natty Zola says: It gives cashed-strapped entrepreneurs the opportunity to focus on their business for three months "and really see if there's a business there." But access to TechStars' member network -- full of entrepreneurs, investors, lawyers and mentors -- "really helps you take your business to the next level," Zola says.
Everlater, now a team of four, is working to create new site features, build partnerships to distribute their technology, and begin selling physical travel journals and other products. The company gave TechStars 6% of its stock when it entered the incubator.
"That is probably the best 6% of your company you'll ever give away," Zola says. "You get that back in spades."

NEXT: Measy.com

•

Lending site helps launch boutique