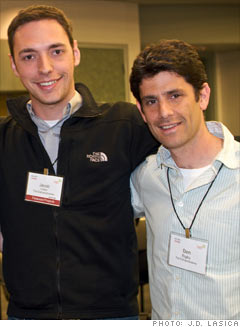 The Extraordinaries cofounders Jacob Colker and Ben Rigby
San Francisco
Funding: Social entrepreneurship grants and competitions
Amount raised: $105,000 from We Media and EchoingGreen; undisclosed sums from other sources
Launched: July 2008
Starting out, the three founders of The Extraordinaries didn't have much cash or an idea that was fleshed out enough to approach investors with. To fund their site, which connects mobile phone users with quick "micro-volunteering" opportunities, they took a different tack and applied for social entrepreneurship grants and competitions.
"We lost a lot of them," CEO Jacob Colker says. But it wasn't all bad: "It helped us refine our idea and refine our talking points, get a great sense of clarity around what our offering is and what we want to do."
Eventually they started winning. Media consultancy We Media awarded The Extraordinaries $25,000 in February 2009; then came other big wins, including a grant from the Knight Foundation and $70,000 from EchoingGreen, which invests in ventures that tackle civic challenges.
The prizes and grants came with few strings attached. Some organizations follow up to make sure The Extraordinaries is making progress on its social engagement goals. "There is quite a bit of pressure to maintain our focus and to do that," Colker says. "[But] for us, that's what we set out to do. We set out to have an impact, so we appreciate that encouragement."

More galleries

•

Lending site helps launch boutique