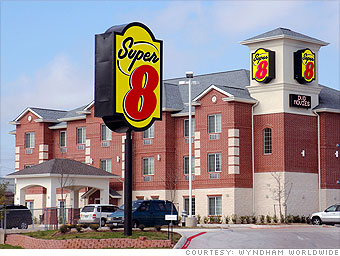 Number of SBA loans : 456
Total dispersed: $ 415.2 million
Average loan size: $910,476
Failure rate: 4%
Getting into the motel industry is pricey -- the average loan size is much larger than that for other franchises -- but it's also a pretty safe bet. Among the handful of franchise brands with an enviable 0% failure rate, meaning that every SBA-backed borrower was able to keep up with the loan payments, a notable number are hotels and motels.
Super 8 has the lowest default rate on this top-10 list, hovering just under 4%. The brand is a subsidiary of the Wyndham Hotel Group, which also owns the Days Inn, Ramada and Travelodge franchise brands, among others.
Super 8 started with one motel in Aberdeen, S.D., that in 1974 offered rooms for $8.88 per night. The chain now has close to 2,000 locations across North America.