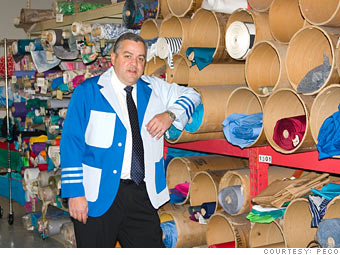 Peco President Peter Papageorge.
When a stock trader wants to look like a Wall Street hottie, he can pop up the collar on his flame-colored jacket. That's thanks to Peco, a Chicago company that since 1973 has made colorful jackets for traders who want to stand out on stock market floors.
"People would send us fabric -- bed sheets even," recalls second-generation owner and president Peter Papageorge. "Sometimes there was Disney-themed stuff. They'd send us all kinds of all crazy stuff."
But now, the rising dominance of electronic trading is turning the fashion item into a novelty instead of a necessity. Trading jackets, which previously accounted for Peco's entire business, now only make up about a quarter of the company's sales. Papageorge launched a restaurant uniform business, Culinary Classics, in 1993. Without that expanded product line, he says, Peco -- and its famed trading jackets -- would have disappeared.

NEXT: Sparklers