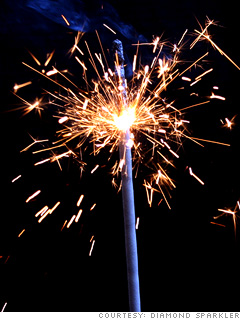 Diamond Sparklers, the only sparkler manufacturer left in the U.S., has come up with an innovative but incestuous strategy to stay alive: It is its own biggest customer.
Phantom Fireworks, Diamond's parent company, sells sparklers in its 55 stores throughout the country, as well as about 1,500 temporary stores set up around the Fourth of July. Otherwise, the company would have died as soon as Chinese competition flooded the market in the 1970s, said Jerry Bostocky, the company's vice president of sales.
Diamond Sparkler won an anti-dumping lawsuit against Chinese manufacturers in 1991, and since then, the Federal Trade Commission has maintained a 93.5% duty on sparklers imported from China.
Still, Bostocky says it would actually be cheaper to close the factory and import the sparklers. It's the family-owned company's close ties to its community in Youngstown, Ohio, that keep it going.
"There are 20 full-time employees in our factory in Youngstown, and as long as we can sell these products in our own venues, then we're going to keep doing it," he says. "We're not going to give up."

NEXT: Limburger cheese