A fishing season in limbo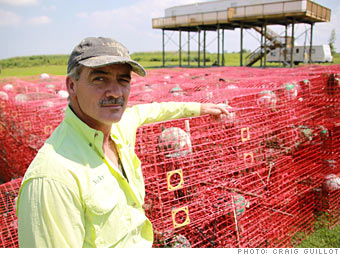 Nicky Alfonso
Commercial fisherman
Delacroix Island, La.
Born into a family of commercial fisherman, Nicky Alfonso has been fishing for crab, shrimp and oysters all his life. Alfonso operates out of Delacroix, a small fishing village tucked deep in Louisiana's wetlands at the end of a dead-end road.
When authorities closed more than 6,800 square miles of federal waterways on May 2, he was put out of business indefinitely.
"Everything is just shut down. We didn't want to stop working, but that is just the way it goes. I've got nothing to do," Alfonso says.
Like any commercial fisherman in the region, Alfonso has taken a beating in recent years. He lost his home and one of his three boats during Hurricane Katrina.
"I have learned frrom being younger that in this industry, you better be putting money away for tough times," Alfonso says.
He might be financially prepared to weather the storm, but that isn't much of a consolation. Unable to fish, he's stuck watching and waiting to see what will happen next. Most of his money is invested in his boats and equipment; all he can do right now is try to save what he has. He and other fisherman recently began pulling their crab traps out of the waterways, not only to salvage their equipment but also to release the crabs so that they can repopulate for when the season reopens.
"With 266 traps at $35 apiece, that's about $10,000 I had sitting in the water out there," he says. "I saved my equipment, but I also released the crabs so that I'll have some to go back to."
Although he also fishes for crabs and oysters, the majority of Alfonso's income comes from shrimp. Before the spill, the shrimp season was getting ready to open around May 15, and many fishermen were preparing their boats and investing money in nets and maintenance. Now, those plans are on hold.
"I'm not putting anything into it yet -- I'm going to wait and see what happens. Everything is still up in the air," Alfonso says. "If this oil comes here, we don't know how long its going to be before the seafood [comes back]."

NEXT: And back on land ...