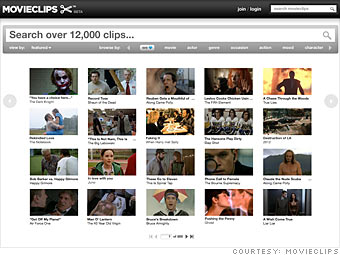 MovieClips
Founders: Zach James and Rich Raddon
Headquarters: Santa Monica, Calif.
Launched: December 2009
Final Five finalist
A quick spin on YouTube reveals thousands of movie mashups, with scenes from various movies spliced together by users creating their own versions. So what's the big deal about MovieClips?
It makes it so easy. Instead of having to extract movie scenes yourself, MovieClips offers Web surfers a searchable, tagged database of more than 12,000 clips from six movie studios' catalogues. Browse through and mash them together into your own personal movie. Share your creation, and you might inspire someone to check out a movie from 25 years ago. With a new Karate Kid movie due out this summer, MovieClips can introduce a new generation to the original's famous "wax on ... wax off" scene.
Final Five judge Samuel Schwartz of Comcast Interactive was so smitten he told MovieClips' founders that wanted to talk more later about how Comcast could work with the site. But Google's Marissa Mayers -- the site's "user experience" head -- felt that searching for clips still isn't easy enough, even though MovieClips had 30 part-time employees tag more than 1,000 pieces of metadata (dialogue, actors, moods, and so on).

NEXT: Confused by your 401(k)? Click to simplify