Businesses on Florida's Gulf Coast are watching tourism dollars slip away -- even when there's no oil in sight.
$2 million in lost sales: Davenport Properties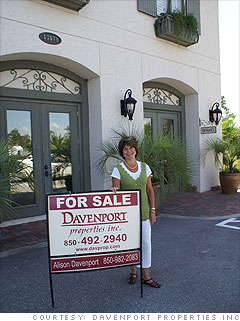 Real estate broker Alison Davenport lost two contracts from Perdido Key, Fla., buyers made skittish by the oil spill. What's harder to calculate is the number of contracts that never even got to the table: She hasn't had a new one since June 1.
Davenport filed a claim with BP for her $2 million in lost sales. One contract was deemed ineligible, and she's still waiting to hear on the other. She's looking forward to Kenneth Feinberg, the former special master of the 9/11 victim compensation fund, taking over the process later this month: "I am elated. I think he is a very trustworthy person. He is wise, willing to listen."
NEXT: $102,000 in cancellations: Inn on Destin Harbor