Eggs, veggies and architectural advice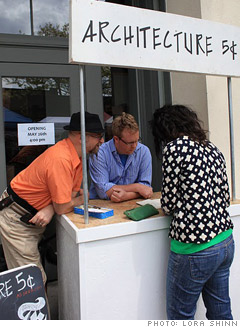 J Arthur Design
Seattle
After being laid off from his job as an architect, John Arthur Morefield took advantage of a local small business training course to plan his future -- and chose an unconventional approach.
Morefield set up an architectural services stand at the Ballard Farmers Market in November 2008. His humble sign read: "Architecture 5¢."
Two years later, he's still manning the stand. Morefield gives quick advice for a nickel -- which may then lead to residential projects at typical architecture rates.
Curious potential customers wait in line, hand-drawn sketches in one hand and a nickel in the other. Morefield pulls up data using his smart phone, sketches out solutions and arranges follow-up meetings with future clients.
"When I sit at the booth, I have the greatest office ever," he says.
He rents a desk from a local architectural firm, and meets with clients at coffee shops or in their homes. The small, bespoke firm has grown so rapidly that Morefield just hired another architect to assist.
Why it works: "They break through clutter," Yarrow says of innovative storefronts in unexpected places -- even those selling services.
A farmer's market stand inspires interest and generates excitement among shoppers. "That is especially important in a down economy that's loaded with competition. Consumers need something extra to inspire engagement," Yarrow says.
By introducing himself to potential clients in a no-pressure environment, Morefield is "getting out there," she says. "Your company is personified and real."

NEXT: A tiny spot off the beaten path