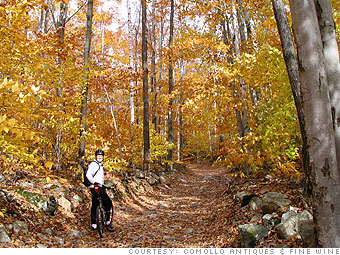 Clarke Comollo settled in Vermont for the sense of community. The outdoor lifestyle and natural beauty can't be beat, either!
Who: Clarke, 54, and Barbara Comollo, 51
Launched: Antique and wine shop
Clarke and his wife, Barbara, were self-professed "ski bums" out West, bouncing between ski resorts like Jackson Hole and Aspen, when they decided to settle down in Vermont, where they'd both lived at various points in their lives.
It wasn't an easy move. They showed up without jobs or any money. Luckily, they had a ten-ton truck full of antique tools and other old things Clarke had been collecting for years. They hawked their wares on the lawn, and quickly made $2,000. "That was the most money I had ever had," Clarke said. "I knew I had found my calling that first day."
The next day, he went to an auction and filled his truck with more used goods. "I was buying stuff for $4 and selling it for $6," he said. Soon, the couple was able to open an antique store, now named
Comollo Antiques & Fine Wine
, and it's thrived. "If you had told me that someday I'd be selling paintings for $100,000-plus and American furniture for $25,000 I would have laughed," Clarke said.
Clarke still finds time to work for the ski patrol in winters (he likes getting free ski gear), play music, and serve as auctioneer at fundraising events.
After years of being on the move, the couple relishes feeling part of a community: "We're just as lucky as anybody on the planet," said Clarke. "People are friendly, we wave to each other, we know each other."
NEXT: The South of France