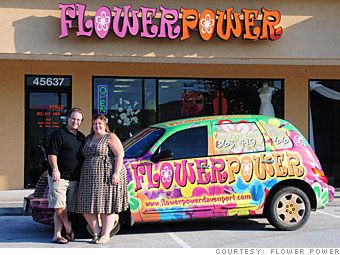 James and his wife Helen found a brighter life in Florida.
Who: James, 41, and Helen Raynor, 38
Launched: Flower shop
Talk about drama: A TV show helped convince James Raynor and his wife, Helen, to trade the UK's gray clouds for Florida sunshine.
James, a bank manager at the time, and Helen, a human resources manager, were living about 100 miles north of London, when Helen saw a reality show that followed couples who had moved to Florida to start a new life. It was a popular trend before the housing bust: Expos were touring the UK, looking for would-be immigrants to buy homes and set up businesses in Florida. The couple had visited Florida a few times before; it seemed like the perfect escape from corporate stress.
So they bought a flower shop (which got them a needed visa) and moved in July 2004. But the transition to paradise was bumpy. In the first six weeks, three hurricanes came through and pummeled their shop. "We thought someone is telling us to pack up, get on the plane, and go back home," said James.
But since that rough introduction, the Raynors have been loving the Sunshine State. By October, they'd launched a second shop a few minutes from their home in Davenport. Two years later, they sold the first shop so they could focus on
Flower Power
, which makes arrangements for wedding parties, vacationers and nearby Disney hotels.
Corporate stress is a distant memory. They work at the shop on weekdays and spend most weekends at the beach -- they're about an hour's drive from the Atlantic and Gulf Coasts. "We regularly go to take photos of Cocoa Beach at sunrise," said James.
And they love the weather. "You spend a lot more time outside," said James. "We flew our dogs from England and our dogs go swimming in our pool."
NEXT: Panama City, Panama