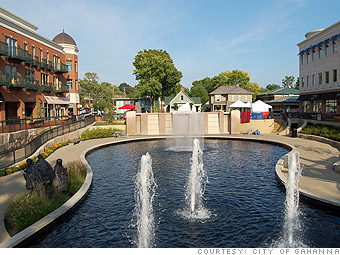 Even some small cities go out of their way to woo entrepreneurs. Gahanna, a town of just over 30,000 outside of Columbus, offers a big local tax break: a rebate of up to 50% on the city income tax -- which is levied at a rate of 1.5% -- for up to five years.
The so-called Office and Industrial Rebate is available to businesses with an annual payroll of over $1 million and is negotiated depending on the project investment and number of jobs created for the city.
One recent beneficiary: a small electrical engineering company called IJUS. The tax break motivated the company to bring its main office to Gahanna in 2005 -- along with its 25 workers and annual payroll of $1.6 million. IJUS expects to expand its workforce to 40 in the next three to five years.
At the state level, Ohio also is courting business with tax breaks, after a restructuring of its tax code that began in 2005 and will be fully phased in next year. For example, the first $1 million of a firm's gross receipts are now exempt from state business taxes. Sales made outside of Ohio are now exempt from state taxes. Personal income tax rates also were cut, which helps owners who file business taxes on their personal returns. --Catherine Clifford
More galleries
Last updated November 23 2010: 1:41 PM ET