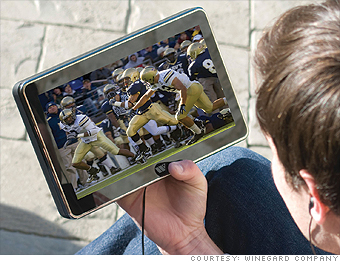 Winegard Company
Cio Mobile TV
Price: TBA
Live television streaming straight to your car is now a reality. Traditional over the air broadcasters have started sending out a new digital broadcast feed that can be decoded in moving vehicles. And Burlington, Iowa-based Winegard Company has come to market with the Cio -- a LCD TV that you can take on the road.
The device has the potential to be gloriously simple: Stick the set in your car, camper or vehicle, rig the antennas and do some tuning, and you are good to go for a live, local broadcast TV as you drive.
Yes, fears of drivers watching Oprah while hurling down the interstate will haunt this product. And signals last only in their local markets, just like radio in a car.
But free TV in a car? During a recession? That's a concept that will redefine the family drive.

NEXT: 4) The electric newspaper