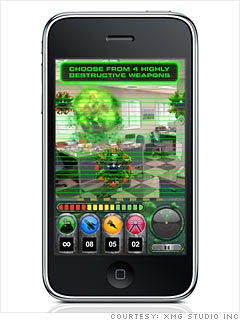 Developer: XMG Studio Inc.
Cost: $2.99
Pandemica turns your iPhone into a 3D virtual reality gaming device -- without having to don a bulky headpiece. Your mission: Find and kill the enemy pathogens threatening to take over the world. The app uses a live camera view to show your own surroundings as the game's background, so the green alien viruses appear to be crawling on your kitchen counter as seen through the iPhone.
You can unlock weapons to blast the green enemies into oblivion, but if the goo touches you the only way to break free is to shake your iPhone. But you have to move fast, otherwise your screen will turn red, your phone will vibrate and your character will get hurt.
A map in the corner of the screen lets you track where the viruses are oozing around, so make sure you're scanning 360 degrees and checking both ceiling and floor for the green goo. Need help saving the world? Grab a friend and play in multiplayer mode via Bluetooth or Wi-Fi.

NEXT