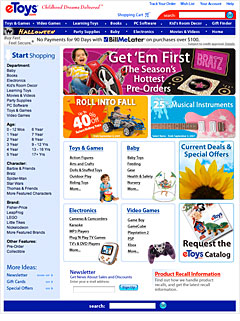 When eToys.com shares hit a high of $84.35 in October 1999, who could have guessed that just 16 months later, the company would warn investors that its stock was "worthless?"
The online toy retailer was founded in 1997 and quickly became one of the most visited Web sites for holiday shopping. It spent tens of millions of dollars on marketing campaigns and partnerships as it jockeyed for position with other retailers like Toysrus.com, Amazon.com and Walmart.com. But eToys just couldn't keep up.
After reporting a $74.5 million loss in the last quarter of 2000, the company said it had just enough cash to last until March 31, but after that it would require "an additional, substantial capital infusion."

It never found a white knight. Citing debt of $247 million, eToys said in February 2001 it had no alternative but to file for bankruptcy.

The site was bought out of bankruptcy by KB Toys, which later filed for bankruptcy itself. But eToys.com lives on, hoping the third time's a charm.

NEXT: GeoCities