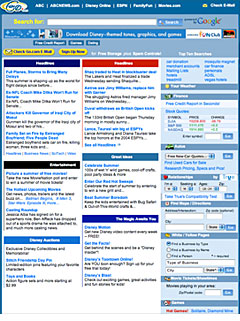 The dot.com bubble was a magical time when just about any company thought it could create a competitive Internet portal. But even though it was the company that owned the Magic Kingdom, Disney found out that the dot.com bubble wasn't so magical after all.
In 1998, Disney set up Go.com to compete with the likes of Yahoo and AOL. Go.com grew out of a merger of Disney's online properties like ABC.com and ESPN.com with the search engine Infoseek.
In November 1999, Disney even created a tracking stock for Go.com, a separate class of stock that reflected the performance of the new Web property.
But Go.com never really got going, unable to grow its user base by more than 21 million visitors per month -- less than half of AOL and Yahoo in 2000 and 2001. One likely reason for its lack of success: Being owned by Disney, Go.com restricted adult material.
In January 2001, Disney announced it would shut down Go.com, and the company took a write-off of $790 million. Disney never actually shut down the site, which is now just used as a hosting site for ESPN.com and ABC.com.
NEXT: Flooz.com