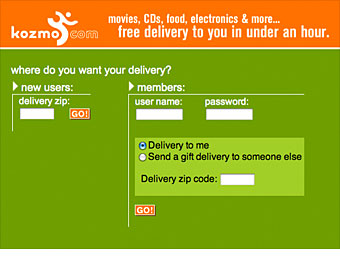 Really want a pint of ice cream, but don't want to walk to the corner store? Too bad Kozmo.com isn't around anymore.
The delivery service would allow urban customers to order a wide array of products, including CDs, DVDs, electronics and snacks. Deliverymen would then come and deliver the order to customers' doors for free within one hour.
Kozmo.com, which was available in nine cities, was once seen as a new method of delivery for online purchases that would eventually challenge UPS and FedEx. Kozmo secured about $280 million from investors, including $60 million from Amazon.com. and a $150 million promotion deal with Starbucks.
But free delivery and no minimum purchase became the company's undoing. Kozmo.com had to withdraw plans for an initial public offering in the summer of 2000, citing unfavorable market conditions and losses of $26 million in 1999.
The company laid off 900 of its 2,000-person workforce and instituted a $10 minimum charge in the first quarter of 2001, but it was forced to shut down its service in April 2001.
NEXT: Garden.com