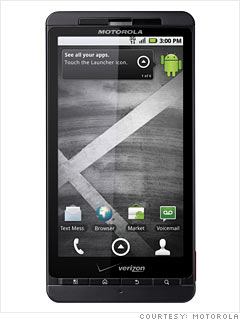 The Droid X is big -- it's clearly the target Steve Jobs had in mind earlier this month when he referred dismissively to smartphone creators who are "making Hummers now." With a 4.3-inch screen, this is effectively Motorola's answer to the HTC EVO 4G that just debuted on Sprint's network. That's not to say it's unusable large, or that the size is a problem, but it's a big phone that commands big pockets.
One of the first things that struck us about the X's screen was that it appeared undersaturated at first glance. It's likely that what the display looks like on the X is actually how the Android UI really looks; we're just used to other Android phones being oversaturated.
The display is very bright. Brighter than any other Android phone we've tested -- about on par with the iPhone 3GS, but with better black levels. That results in nearly the same contrast ratio as the iPhone 4.
The X is also thin. Really thin. The majority of the device is 9.9 mm thick, while the top of the device is 1.4 cm. Motorola has made a tradeoff here, making the rest of the device thin and wide at the expense of a bulge in another location. That bulge, unsurprisingly, is the camera.

NEXT: Sensors and buttons

Last updated July 27 2010: 2:43 PM ET